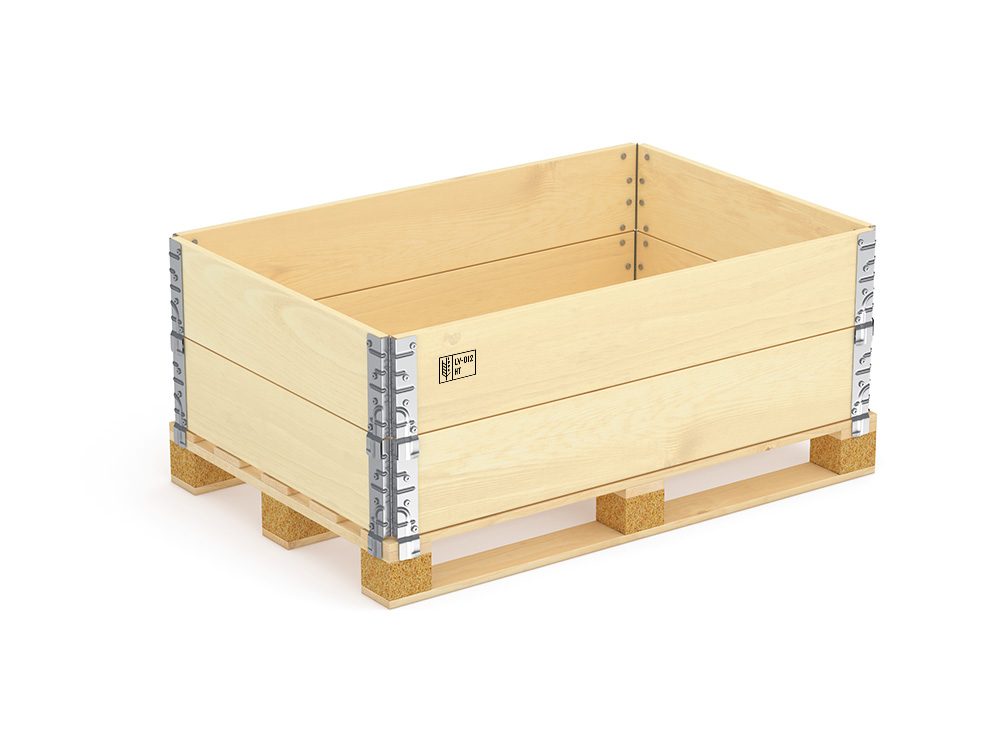 In the fast-paced world of retail, supermarkets need efficient and reliable storage and display solutions to manage their inventory effectively. When it comes to storing and presenting goods, the choice between pallet collars and pallet stacks can significantly impact a supermarket's operations. In this article, we will explore the reasons why pallet collars offer a superior alternative to pallet stacks in supermarkets. We'll delve into the benefits of pallet collars, their versatility, eco-friendliness, cost-effectiveness, and their ability to enhance product visibility. Let's uncover why pallet collars are the smarter choice for modern supermarkets.
What are Pallet Collars?
Pallet collars, also known as pallet containers or pallet cages, are innovative storage and transportation solutions commonly used in various industries, including supermarkets. They are designed as collapsible structures that can be easily mounted onto standard pallets, creating a secure enclosure for goods. These collars are typically made from high-quality, durable wood, plastic, or metal materials.
The Inefficiencies of Pallet Stacks
Pallet stacks have been a traditional method of storing and transporting goods in supermarkets. However, they come with several inefficiencies that can lead to product damage, limited space utilization, and difficulties in accessing items.
Damaged Goods and Losses
When using pallet stacks, goods are often stacked on top of each other, leading to potential damage during handling and transportation. Fragile items can break, and perishable goods might be crushed, resulting in financial losses for supermarkets.
Limited Versatility
Pallet stacks have limited flexibility when it comes to organizing products of various sizes and shapes. As a result, supermarkets may struggle to optimize their storage space, leading to inefficient use of valuable store real estate.
Space Constraints
In a supermarket environment, space is crucial. Pallet stacks take up more vertical space than necessary, reducing the number of products that can be displayed in a given area. This can lead to missed sales opportunities and a cluttered shopping environment.
Benefits of Pallet Collars
The implementation of a pallet display stand can overcome the inefficiencies associated with pallet stacks. Let's explore the benefits they offer in detail.
Improved Product Protection
Pallet collars act as a protective barrier around goods, safeguarding them from damage during handling, transportation, and storage. The enclosed design provides additional stability, reducing the risk of product breakage.
Easy Access and Handling
One of the significant advantages of pallet collars is their foldable structure, allowing easy access to the stored products. Staff can quickly open the collars from any side, eliminating the need to remove and restack items continually.
Stackability and Flexibility
Pallet collars can be stacked on top of each other, optimizing vertical space while maintaining product accessibility. This stackability makes them ideal for organized storage and easy stock rotation.
Pallet Collars and Sustainability
In today's environmentally conscious world, sustainability is a critical consideration for any business. Pallet collars align with sustainable practices in several ways.
Environmentally Friendly Materials
Pallet collars can be manufactured from eco-friendly materials, such as responsibly sourced wood or recycled plastic. This choice reduces the supermarket's ecological footprint and demonstrates a commitment to sustainability.
Reusability and Recycling
Unlike traditional packaging that often ends up in landfills, pallet collars are reusable and durable. In the event that a collar becomes damaged, it can be repaired or recycled, further reducing waste.
Cost-Effectiveness of Pallet Collars
Beyond their practical advantages, pallet collars offer financial benefits that can positively impact a supermarket's bottom line.
Initial Investment vs. Long-Term Savings
Although the initial investment in pallet collars may be higher than pallet stacks, the long-term savings in reduced product losses and improved storage efficiency can outweigh the upfront costs.
Reducing Labor Costs
With easier access to products, supermarket staff can save time and effort during restocking and inventory management. The efficiency gains can lead to reduced labor expenses over time.
Enhanced Product Visibility with Pallet Collars
In a competitive retail landscape, catching the eye of shoppers is crucial. Pallet collars contribute to enhanced product visibility in several ways.
Face-Out Display Capability
Pallet collars allow products to be displayed face-out, showcasing their branding and packaging to customers. This eye-catching presentation can influence purchase decisions and boost sales.
Better Organization and Presentation
By using pallet collars, supermarkets can neatly organize and present products, creating an appealing shopping experience for customers. Well-arranged displays can also contribute to a sense of order and professionalism in the store.
Pallet Collars in Supermarket Displays
Supermarkets can leverage pallet collars to enhance their displays and promotions further.
Customization and Branding
Pallet collars can be customized with branding, logos, and product information, effectively turning them into advertising platforms that reinforce the supermarket's brand identity.
Seasonal Promotions and End-Cap Displays
Pallet collars can be easily rearranged to accommodate seasonal promotions or placed on end-caps to draw attention to featured products. This adaptability enables supermarkets to capitalize on marketing opportunities effectively.
Transitioning from Pallet Stacks to Pallet Collars
Implementing a new storage and display system requires careful planning and execution.
Integrating New Systems
Supermarkets should assess their storage needs and collaborate with suppliers to integrate pallet collars seamlessly into their existing infrastructure.
Training Staff for Optimal Usage
Proper training is crucial to ensure that staff members are familiar with handling and using pallet collars efficiently. Adequate training will maximize the benefits of the new system.
Common Concerns About Pallet Collars
While pallet collars offer numerous advantages, some common concerns may arise.
Stability and Weight Capacity
Supermarkets may worry about the stability of stacked pallet collars and whether they can handle heavier loads. Choosing high-quality, appropriately rated collars can address these concerns.
Compatibility and Standardization
Supermarkets with existing pallets may wonder if pallet collars will fit their pallets. However, most pallet collars are designed to be compatible with standard-sized pallets, ensuring smooth integration.
Conclusion
Pallet collars provide an innovative and efficient solution for supermarkets seeking to optimize their storage and display systems. With their protective design, ease of access, eco-friendliness, and cost-effectiveness, pallet collars outshine traditional pallet stacks in various aspects. Embracing pallet collars enables supermarkets to enhance product visibility, reduce waste, and create a more appealing shopping experience for customers.