Do you know the most convenient and safest file format suitable for transferring your data? It's none other than the Portable Document Format (PDF). PDF files are safer documents that can support you in sharing your files securely and without changing their orientation. As the file format is usually non-editable to maintain the document format, you may seek some guidance if you want to merge PDF files.
To help you out with this task, we have come up with efficient tweaks that can combine PDF files with ease. If you have a new PC, you may have received a free trial of Adobe Acrobat DC to perform this task. While being online, you can follow online websites for this transformation. If you are frequent in editing PDF files, you should make use of the Best PDF editor software for Windows. Go through the post and merge PDF files with ease.
How to Merge Files in the Windows 11 System?
As we use PDF file formats or there are times when we wish to combine them. Windows 11 operating system is an excellent interface to interact with your PC. Even then, it doesn't have a dedicated system utility to combine PDF files. It only allows you to preview the document but editing options are only limited with the Adobe premium version. You can make use of some offline free tools, online platforms, and separate third-party tools to manage and work with your PDF files.
Using the Chrome Extension
If you don't want to use a dedicated PDF editor for merging your PDFs, you can try using this tweak. Your Chrome browser can help you combine PDF files. All you have to do is to add the extension to merge PDFs. Use the following steps to facilitate and employ the Chrome extension for joining your PDF files.
Step 1: Access the Chrome Browser on your Windows 11 desktop.
Step 2: Locate and select the chrome extensions tab and search for the "Merge PDF" tool.
Step 3: Enable the merge PDF extension on your Chrome browser.
Step 4: Now choose the extension icon available by proceeding to the address bar.
Step 5: Opt for the "From your PC" option under the "Choose Your Files" choice.
Step 6: Select the files to be merged.
Step 7: Wait for the upload to complete and choose the option to merge it.
Step 8: When the merging task is over, download the combined PDF to make it available offline.
Using an Online Platform
One might try using an internet gateway as an alternative to downloading and installing a special PDF combining application. If you only have a few files to merge, online platforms are a wise choice for a PDF editor.
All the online portals for combining PDF files are quite user-friendly, but the free versions only offer a few features. Online file joining is sufficient with a basic version if you only want to consolidate a small number of PDF files. Through the use of an internet platform, the typical process for combining PDF documents is as follows.
How to Merge PDF Files on Windows 11?
Step 1: The very first step is going to the website where you can merge your PDF files.
Step 2: Choose "Merge PDF" from the webpage.
Step 3: Uploading the file to the internet site is step three.
After the upload of your files is complete, choose the option to combine all documents.
Step 5: Choose Merge PDF from the options menu to join PDF files.
Step 6: Wait till the combining process is complete before continuing. Download the merged file now.
Using Advanced PDF Manager
The Advanced PDF Manager is one of the best PDF editor tools for the Windows platform. The software can not only combine PDF files but also protect, edit, print, and rotate PDF files. With its many capabilities, Advanced PDF Manager enables users to manage PDFs in any way they see fit. The PDF manager includes all the capabilities you want, from simple to sophisticated. Users may replicate PDFs, split pages into different documents, print PDFs, add a blank PDF, combine current PDFs, recover pages into a different file, and add and delete passwords for chosen PDFs.
Advanced PDF Manager Features
● Variety of file viewing choices
● Capable of creating empty PDF files
● Have a better ability to shuffle PDF pages
● Can arrange the orientation of your PDF files
● Can clear the edit history of your PDF files
● Intuitive user interface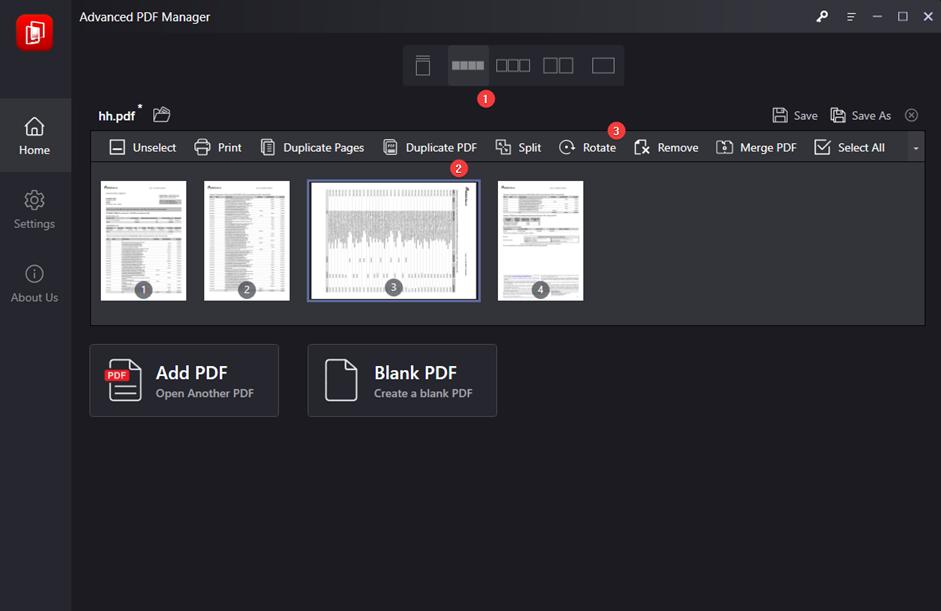 Final Verdict
Everybody utilizes the PDF file format for data communication. However, changing your PDF file is a challenging operation. The offline and online techniques need a separate set of modifications for every operation. With the help of the best PDF manager software, you can edit PDF files. In this part, we've given a general overview of managing and modifying your PDF files. These professional hints will make it simple for you to alter your PDF file.